LC-300 Deep Well Level Monitor – Accurate to 2000′
The LevelCom 300 Well Level Indicator eliminates the need for down hole sensors and resolves problems long associated with submersible sensors for well level sensing.
The calibration of the sensor can be verified because the sensor is not at the bottom of the well. The instrument uses the same sensor to measure wellhead pressure,  this removes the errors resulting from using a separate sensor for this measurement. The LevelCom 300 has self diagnostics which detect faults with the bubbler tube system. Compatible with telemetry, control and SCADA systems.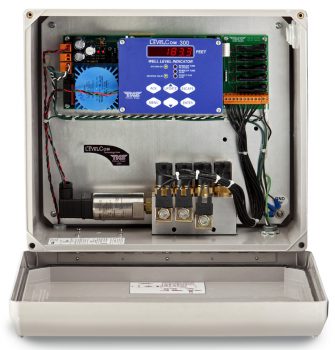 Continuously monitors well head pressure
Automatically monitors gas cylinder pressure, detects leaks and plugs in the well bubbler tube
Modbus, Ethernet communication provide digital data to  HMI or SCADA Systems
Wireless LAN communication available
Eliminates the need  for well tear downs to replace failed pressure transducers
Alarm/Control Relays

Low gas consumption (Nitrogen)
Applications:  Aquifers, Agriculture, Municipal Wells,  Mining, Industrial