Steam Plant Draft Gauge
The LevelCom DG–100 CPGB electronic bar graph draft gauge replaces obsolete, unreliable and expensive to maintain mechanical draft (low pressure) gauges.
The DG-100's solid state pressure sensor allows it to maintain accurate calibration over a wider range of temperatures and operating conditions, than older mechanical style pressure gauge elements.  The DG-100 gauges are fully self contained requiring only a connection to the pneumatic signal tubing and electrical power for operation.
The DG-100 also features automatic sensor zeroing to compensate for sensor drift and a highly visible 80 segment bar graph.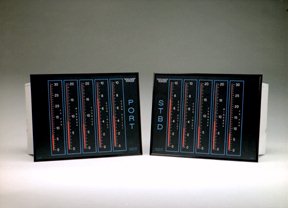 Features
Available in single or multiple (up to 6 gang) gauge assemblies
Custom Scale Imprinting
Upper & Lower limit LED's provide visible warnings when the input pressure moves out of range
Accurate & reliable, no operator intervention required
Configurable LED display bar graph or dot mode
Options
High/Low Alarms—select relay action (fail on, fail off) for flexible alarm functions
Available as a 4 to 20 milliamp process indicators